Bouncing Star Smart Ball Project
We report on our interactive media art project of "Bouncing Star," a smart-ball system, and its applications as an entertainment system.
Our team has been conducting the "Bouncing Star" smart-ball project from 2007 to the present. Kodama, Izuta, and Koike developed a new ball. (Kodama took this project forward as an artist and director. ) We have developped several interactive applications using the ball system.
Our purpose is to make a new ball that has the normal functions of an ordinary ball (falling, rolling, spinning, and the ability to be thrown, hit, caught, bounced, turned around, etc.), plus new, different functions (lighting, sound, text/image and graphic
interaction, haptic interaction, information processing, and wireless function) by use of digital technologies, to develop practical/artistic applications. A smart ball works as an interface by acquiring the real-time data of the ball, so as to use it to generate data to control output devices when people operate the ball.
The Bouncing Star has been exhibited ten times, and over 10,000 people have participated in the exhibitions. We explore the possibilities for a smart-ball interface, based on the observations of exhibition experience. (Old page about our project is here.)

Movie & Photo
| | | |
| --- | --- | --- |
| M-Digital Ball | (YouTube video, 2015) | |
| | (YouTube video, 4min6sec, edited by Satake in 2009) | |
| | (YouTube video, 21sec, edited by exhibition organizer in 2012) | |
| 3D Crossword | (wmv file, recorded in Kodama lab. in 2012) | |

Demo and Exhibition History
-Device Art Exhibit, Miraikan (Tokyo), Sep/26-30/2007
-National Art Center (Tokyo), Feb/6-17/2008
-Interaction 2008 (Tokyo), March/3-4/2008
-Laval Virtual 2008 (Laval, France), Apr/9-13/2008
-SIGGRAPH 2008 E-tech demo (Los Angeles), Aug/11-15/2008, 5 days demo link
-'Invisible Garden' Exhibition, Miraikan (Tokyo, Japan), Dec/1/2010 –Mar/11/2011
-'Art of Light' Exhibition, (Malios, Morioka, Japan), June/30-July/24/2011
-'Magical Art Museum' Exhibition, (Takehara Museum, Hiroshima, Japan), Aug/5-Sep/25/2011
-'Magical Art Museum' Exhibition, (Yumeminato Tower, Tottori, Japan), Mar/17-May/6/2012
-'Magical Art Museum' Exhibition, (Matsuzakaya Museum, Nagoya, Japan), July/28-Sep/2/2012
- 'Mugendai Bijutsukan' exhibition, (Hamada Children's Museum of Art, Shimane, Japan), July/23-Sep/23/2012
Space Requirement and Equipments

For exhibitions, the projected image size can be changed (1.5 by 1.5 square meters to 4 by 4 square meters) according to the space restriction. Equipments used for an exhibit are;
1)Balls and Battery Chargers *3
2)LCD Projector * 1
3)High Speed Camera *1
4)PC *1 (Wireless module is installed)
5)Stereo Speakers *1
6)Carpet (for projection) needed depending on the floor / table color.
7)Equipments to fix projector and camera.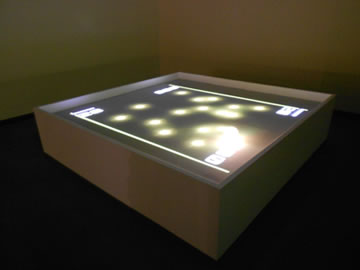 An example of the space (playfield) for the system. The table's height: 45 (cm).
Apprication in the above photo: 'Space Ball II'. Projector layout for the example is here.


Project Members (2007-present)
Director: Sachiko Kodama
Technical Advisor: Prof.Hideki Koike
Hardware Design/Development: Osamu Izuta, Toshinori Abe, Tetsuaki Satake, Kaoru Shibasaki
Software Design/Development: Toshiki Sato, Jun Nakamura, Haruko Mamiya, Akira Fujimoto
Special Thanks: Kentaro Fukuchi, Kyuta Yamada, Mikiko Ozaki, Satoru Saito
Technical Reference
[1]Izuta, O., Sato, T., Kodama, S., Koike, H.,Bouncing Star project: design and development of augmented sports application using a ball including electronic and wireless modules, AH '10, Proceedings of the 1st Augmented Human International Conference,Article No. 22, 2010. link

[2]The 'Bounsing Star' was exhibited at ICMI2012(see the technical program).